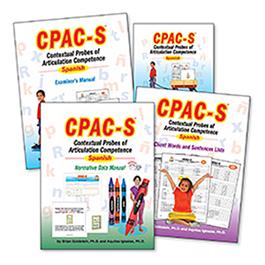 Contextual Probes of Articulation Competence Spanish (CPAC-S) Test with Normative Data Manual
Product Code : MPS8-15006
Brian Goldstein+ Aquiles Iglesias Description   Now published by PRO-ED! Ages: 3-0 8-11Testing Time: 5-10 minutes for the screening tool 20-25 minutes for the assessment 3-5 minutes per probe Administration:...
Brian Goldstein+ Aquiles Iglesias
Description
Now published by PRO-ED!
Ages: 3-0 8-11Testing Time:
5-10 minutes for the screening tool
20-25 minutes for the assessment
3-5 minutes per probe
Administration: Individual
The Contextual Probes of Articulation Competence Spanish (CPAC-S) is an assessment and therapy tool kit for working on Spanish articulation and phonology! It is based on the ""Contextual Probes of Articulation,"" found in the Secord Contextual Articulation Test (S-CAT). Simple to use, the CPAC-S contains a Quick Screen that assesses all Spanish phonemes and many frequently occurring phonological patterns. In addition, it contains a Full Assessment that provides a comprehensive analysis of a client's articulation and phonological skills. This is a clinical management program that:
Probes the production of all Spanish phonemes in a variety of phonetic and phonological contexts.
Examines performance across different speech production levels (prevocalic/postvocalic words, clusters, and sentences).
Identifies facilitating (correct) contexts.
Increases generalization.
Serves as an ongoing measure of progress.
Allows clinicians to help plan intervention.
Routinely administer as an initial examination protocol and use the results to identify intervention targets. It identifies exact pretreatment performance for any Spanish sound or particular phonological pattern, helps clinicians determine when the client is ready to progress to the next articulatory level, when to choose another phoneme to target, and when to dismiss clients from treatment.
Articulatory and phonological patterns are constantly changing. Therefore, treatment for disorders in these areas requires constant monitoring and responsiveness to the changes that result from intervention. Speech-Language Pathologists need to be aware of a client's performance in response to intervention. The CPAC-S is the perfect tool to help build a successful program for the remediation of articulation and phonological disorders.
Valid and Reliable
This comprehensive, criterion-referenced test is based on data from studies relative to phonological processes. The results of the test show linguistic behaviors measured against certain criteria.
COMPLETE CPAC-S KIT INCLUDES: Examiner s Manual, Client Words and Sentences Lists, and Assessment Stimulus Flip Easel, all in a sturdy storage box, plus the CPAC-S Normative Data Manual. ( 2006)