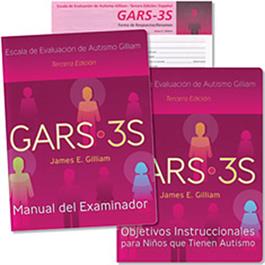 GARS-3S: Gilliam Autism Rating Scale Third Edition
Product Code : MPS8-14331
James E. Gilliam (Gilliam Autism Rating Scale - Tercera Edici n Espa ola Versi n) Spanish Version Description   NOW AVAILABLE!  YA DISPONIBLE! Based on the DSM 5 Definition of...
James E. Gilliam (Gilliam Autism Rating Scale - Tercera Edici n Espa ola Versi n) Spanish Version
Description
NOW AVAILABLE!  YA DISPONIBLE!
Based on the DSM 5 Definition of Autism Spectrum Disorder
 Basado en el DSM- 5 Definici n de trastorno del espectro autista
Ages: 3-22
Test Time: 5-10 Minutes
Administration: Individual
Edades: de 3 a 22
Prueba de Teimpo: 5 a 10 minutos
Administraci n: Individual
The third edition of the Gilliam Autism Rating Scale - one of the most used for assessing ASD instruments in the world - is now available in Spanish. The GARS-3S helps teachers, parents and physicians to identify autism in individuals and provides an estimate of their severity. The GARS-3S reagents are based on diagnostic criteria for autism spectrum disorders adopted by the APA in 2013 and published in the Diagnostic and Statistical Manual of Mental Disorders-Fourth Edition (DSM-5). The GARS-3S generates standard scores, percentile ranks, severity and likelihood of autism.
The instrument consists of 56 clearly defined reagents that describe the behavior characteristics of people with autism. The reagents are grouped into six subscales: Repetitive / limited behavior, social interaction, social communication, emotional responses, cognitive style, and Speak inadequate.
La tercera edici n del Gilliam Autism Rating Scale - uno de los instrumentos m s utilizados para la evaluaci n del trastorno del espectro autista en el mundo - est ahora disponible en espa ol. El GARS-3S ayuda a los maestros, los padres y los m dicos a identificar el autismo en los individuos y proporciona una estimacin de su severidad. Los reactivos del GARS-3S se basan en los criterios de diagn stico para los trastornos del espectro autista adoptadas por la APA en el 2013 y publicados en el Manual Diagn stico y Estad stico de los Trastornos Mentales-Quinta edici n (DSM-5). El GARS-3S genera puntuaciones est ndar, rangos percentiles, nivel de gravedad y probabilidad de autismo.
El instrumento consta de 56 reactivos claramente definidos que describen las conductas características de las personas con autismo. Los reactivos se agrupan en seis subescalas: Conductas Repetitiva / limitadas, Interacción social, Comunicación social , Respuestas emocionales, Estilo cognoscitivo, y Habla inadecuada.
New Features of the GARS-3S
Items and subscales reflect DSM-5 diagnostic criteria for Autism Spectrum Disorder.

Forty-four new items

were added

to GARS-3S.

All six subscales have been empirically determined to be valid and sensitive for identification of children with ASD.

Normative data (N = 1,859 ) were collected in 2010 and 2011 .

Demographic characteristics of the normative sample are keyed to those reported by U.S. Bureau of the Census, 2011.

An interpretation guide in the Examiner's Manual allows the examiner an easy and efficient method for assessing the probability of autism spectrum disorder and the severity of the disorder.