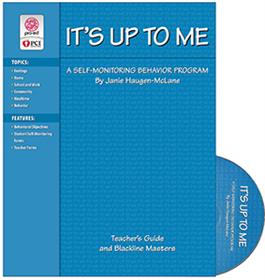 It's Up To Me: A Self Monitoring Behavior Program
Product Code : MPS8-20255
Janie Haugen-McLane Description   Reading Level NonreadersInterest Level 3 - 12 It s Up to Me is a self-monitoring system that encourages individuals to closely examine their own behavior and...
Janie Haugen-McLane
Description
Reading Level NonreadersInterest Level 3 - 12
It s Up to Me is a self-monitoring system that encourages individuals to closely examine their own behavior and change negative behaviors to positive behaviors. The complete system includes a Teacher s Guide with reproducible forms and activity sheets and CD-ROM containing six different motivational notebook covers.
This unique program challenges individuals to improve their behavior at home, work, school, in the community, and at mealtime. Individuals take responsibility for charting their own behavior on a daily basis in their own motivational behavior notebooks. Six different motivational notebook covers are included in this program. Instructors can also monitor individual progress to ensure accuracy.
Charting is made easy with visual cues. Individuals with little or no reading skills can easily monitor their own behavior with this easy-to-use, self-monitoring system. The Teacher s Guide includes 150 reproducible objectives that cover a person s entire day from getting out of bed in the morning and preparing for school or work to dinner and bedtime.
Teaching objectives in five categories:
Home
School and Work
Community
Mealtime
Behavior
Sample Objectives
I will act nice to my roommate this morning.
I will do my chores today.
I will talk in a nice way to my teacher or supervisor today.
I will follow all the rules at ______ today.
I will act nice to people in my neighborhood today.
I will NOT leave my group to go with a stranger today.
I will make my breakfast today.
I will take my dishes to the kitchen after I eat ______ today.
I will NOT argue with people today.
I will act nice when I ride in a car, van, or bus today.
It s Up to Me is an excellent communication resource that links teachers, professional and direct care staff, parents, and the participants. The system s steps provide consistency for changing behavior patterns by allowing the individual to choose whether to behave in an acceptable or unacceptable manner.
Teacher s Guide
The It's Up to Me features all the materials you need to implement the program. It includes a four-step, easy-to-follow process with detailed instructions:
Participant completes My Behavior Worksheet
An Interdisciplinary Team Meeting is held
Staff explains It s Up to Me plan to participant
Staff monitors program on a regular basis
Monitoring Behaviors
Individuals can monitor behavior using symbols to denote feelings and success/failure of achieving objectives on a daily basis. Five feelings faces (Happy, O.K., Tired, Mad, and Sad) provide individuals with symbols to denote their feelings that day. The check mark and x mark provide individuals with a marking tool to denote success or failure of achieving each objective on a daily basis.
Monitoring worksheets contain the objective, brief instructions for completing the worksheet, notes to individual, and a blank calendar. Individuals use these worksheets to monitor behavior on a daily basis. This highly visual worksheets promote consistency in behavior modification. Blackline master forms are included for continual reproduction.
This self-monitoring behavior program is a must-have for educators working with individuals of all ages who need behavior modification. The program is easy-to-use and promotes individual responsibility.
Complete Kit includes: 200 page 8.5"" x 11"" softcover, lay-flat binding Teacher's Guide and CD-ROM with PDFs of Student Notebook Covers 2003.